Thank you very much, Ulrich Dolde! He constantly supplies our webpage with pictures, informationes, ideas and most important expirience!
His book "Motorhome" is the bible for you, who want to build-out and optimization of your expedition truck, or motorhome.
You can order the book here, just contact us. But more important, we are connected to the sources of the equipment presented in that book. At the same time, we will support you during your build-out or extension.
Motorhome book
The 489 pages of my book, "Motorhome, self-build and optimisation", give you a detailed account of how I turned my dream of building a motorhome into a reality. The project is broken down into 39 chronological chapters and more than 1,200 photographs. But this isn't just a book listing the components I used and how I did install them, it also makes you privy as to why I chose them. This way you have the reasoning which may indeed encourage you to decide otherwise if something is better suited to your own needs. I also cover a host of improvements I made over the years since its completion and explaining the reasoning behind each one.
The current edition also gives you a thorough overview of just about every heating and warm water system on the market, explains all the different toilet systems, as well as covering the various types of batteries and their charging/discharging characteristics.
Show More
In many cases, you'll even find alternatives to the products I chose. I should point out that the products covered are largely of German or European origin from internationally reputed manufacturers and can be found in most countries around the world.
Finally, I list all my sources, how much I paid for each item and summarize the total cost and overall time it took to complete the build.
The book also contains an access code to my website where you can download a design tool for the interior layout and a planning tool for the electrical circuit.
I address not only the person looking to build an expedition truck, but anyone owning a motorhome willing to get their hands dirty, or just wanting to learn more about how each component plays in relation to everything else. It doesn't matter if we're talking about a panel van, a bus, an RV, a 4×4 or a full-blown expedition truck.
Even though this is the first English edition, it is in fact a translation of the fifth German edition which has since established itself as a bible for all German speaking motorhome self-builders and optimizers
Show Less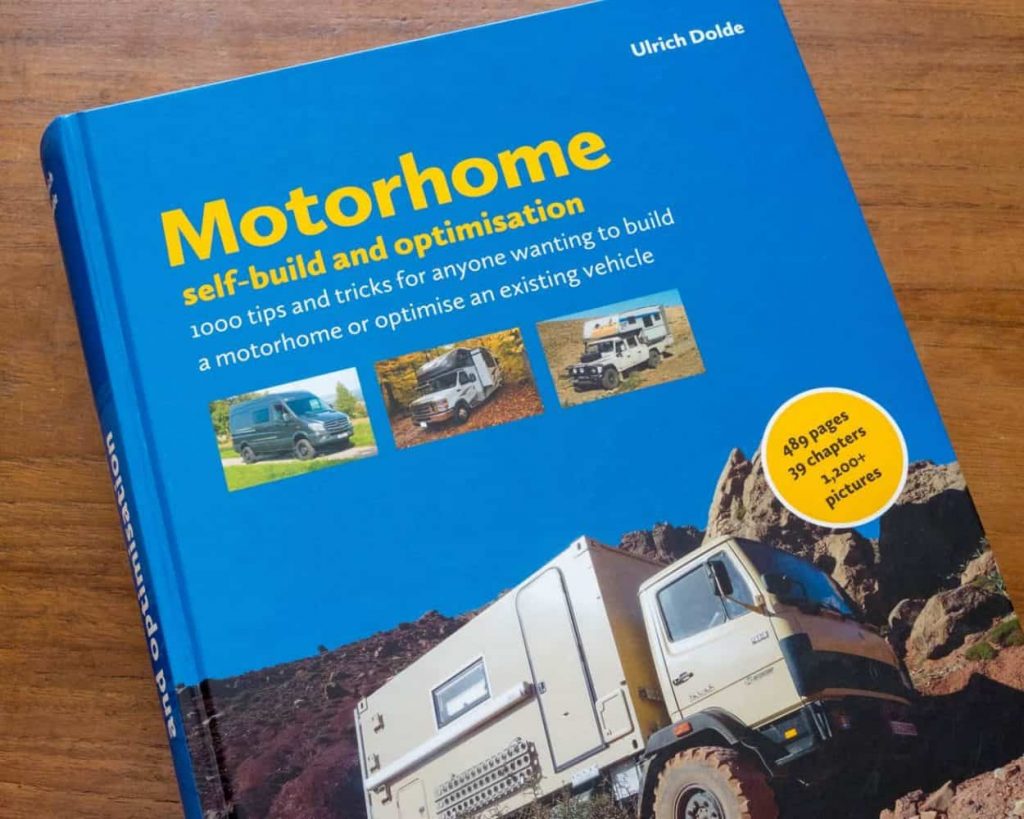 Ulrich Dolde
"I dreamt of owning my own expedition truck for 25 years. To surf on secluded beaches, be independent of water and electrical supplies, to travel distant countries whilst escaping the typical tourist trails and to explore terrain unsuitable for normal motorhomes — that was my vision and motivation. In 2008 I turned that dream into a reality by buying a de-mobbed Mercedes 914 all-wheel-drive truck from the Dutch army and a Zeppelin shelter from the Germany army to create a homely expedition vehicle.

Show More
Turning this experience into a book was only possible because I was lucky enough to consider the build phase as the first step toward our planned trips and documented every stage with more than 2000 photographs. Creating the CD-ROM was not part of the original plan. Meanwhile, Starlet (that's what we fondly call our vehicle) has undergone considerable optimisation. Improvements typical for any motorhome as equipment begins to succumb to the rigours of time or when expectations set upon the vehicle or cabin change.These too are covered in my book and the reason why it is focussed not only toward those who wish to plan and build from scratch, but also toward everyone prepared to get their hands dirty on an existing vehicle or those who just want a better understanding of how the various components interact with one another.
I am by no means a professional cabin builder and it is this particular aspect I want to impart upon other equally travel-minded amateurs to encourage them to look at the alternatives before going to a run of the mill mobile home dealer. I want to open your eyes and motivate you to a full or part build of your own, or to optimise your existing vehicle, even if, like me, you have neither the technical background nor a fully equipped workshop. Most of all though, I want to show you an alternative route to a motorhome finely tuned and tailored to your individual requirements.
I am more than happy if my CD brings you a little closer to fulfilling your dream of a self-built motorhome. I wish you not only fun and success during this exciting process, but also patience and diligence when decisions need to be made.
Kind regards,
Ulrich Dolde

Show Less
Safe & Reliable
We consciously rely on used all-wheel truck chassis from Mercedes Benz without extravagant motor electronics.
Fast Delivery
The Mercedes Benz worldwide distribution network will support spare-parts very fast, if this would be ever necessary.
Wolrdwide Support
No matter where you will travel in the world, you will find most likely a mechanic who once worked on a Mercedes Benz truck engine.